LOKESH ELECTRICALS PVT LTD., established in the year 1999, by merging M/s Lokesh Engineers (Estd. 1994) & M/s Lokesh Industrial Corporation (Estd. 1996).
Mr R C Suresh, MD Lokesh Electricals Pvt Ltd., was the founder of the company. From a one man professional in servicing to employing over 50 people – R C Suresh's journey to become the largest supplier of motors in Karnataka is the kind of stuff the dreams of entrepreneurs are made of.
Mr R C SURESH, an Electrical Engineering by profession, started his career as Motor Rewinder and servicing for a period of 4 years that's from 1990-1994, in the name of Lokesh Engineering Works.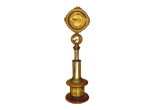 Mr R C Suresh had ambitious in growing business in a big way compare to servicing line he opted for trading when he decided to go for trading he once again selected the products of his same line that is Electric Motors, situation made him to diversify from service line to trading, he founded a trading company in the name of Lokesh Engineers, in the year 1994 with merely no investment then he started his journey with trading of Electrical Motors with some unknown brands then in the mid of 1994 FY he joined hands with LHP motors stated doing well with LHP motors,
Considering Lokesh Engineers and Lokesh Industrial Corporation marketing progress and support infrastructure for providing efficient after sales service Crompton Greaves Limited appointed Lokesh Engineers as authorized Dealer for Motors in the year 1996 and NGEF appointed Lokesh Industrial corporation as authorized Dealer for Motors in the year 1997 With the two brands company started growing at good pace.
Mr R C Suresh had vision of establishing the business in a bigger way he decided to float Pvt Ltd., company, in the year1999 he had floated company in the name of LOKESH ELECTRCALS PVT LTD., by merging proprietorship companies by inducting his brother as Directors he believe with his brothers support had inherent entrepreneurial capability.
Directors
Mr R C Kantharaj Mechanical Engineer
Mr R C Lokesh MBA marketing
Lokesh Electricals Pvt Ltd., joined hands with ABB India in 1999- 2000, becoming ABB India's third channel partner for motors across the country. Since then his revenue from the company has grown ten-fold.
From the modest beginning of few thousands Lokesh Electricals Pvt Ltd., boasts of an annual turnover of more than ₹ 350 Minr Lokesh Electricals Pvt Ltd., is currently one of the leading service providers of Transmission Products in Karanataka and Tamil Nadu.
Lokesh Electricals Pvt Ltd., is tied-up with principle who are pioneers in the industry like ABB, CG, Rotomotive, Bharat Bijilee Ltd.,KSB.
Lokesh Electricals Pvt Ltd., to provide products & services to the industries for all power transmission products Electric Motors, Geared Motors, Gear Boxes, Variable Frequency Drives ETC …. Lokesh Electricals Pvt Ltd., cater to varied industries like Material Handling, Steel, Sugar, Cement, power Pack, Machine Tool, HVAC, F&B, Agro, ETC ….